Young Women in Representation Theory
June 23-25, 2016
---
---

This meeting is part of the series of workshops Young Women in... at the Hausdorff Center for Mathematics. It will take place at the Mathematical Institute of the University of Bonn. The main lectures will be given by


Idun Reiten (Norwegian University of Science and Technology)
Title: Tilting theory

Vanessa Miemietz (University of East Anglia)
Title: Hecke algebras and categorification

The workshop provides a platform for female advanced Master students, PhD students and Postdocs in representation theory to present their research. The main lectures will be complemented by contributed talks, a poster exhibition and ample time for discussion. All talks will be open to the public, and everybody is welcome to attend.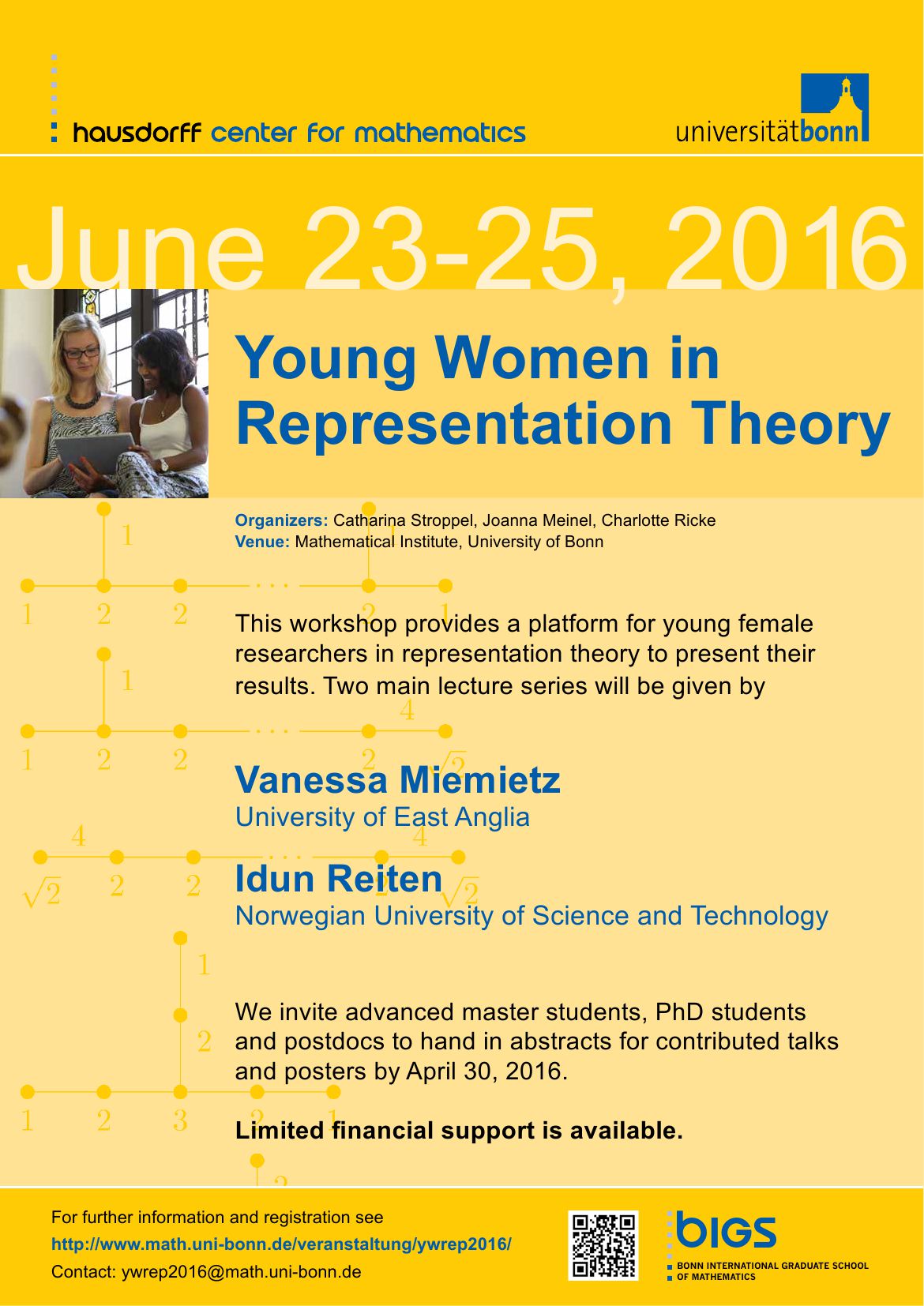 ---

Registration

Registration is now closed. If you have any further question please contact the organizers by email:
YWRep2016@math.uni-bonn.de.


---
Schedule
Thursday
Friday
Saturday
8.45 - 9.15
Registration

9.15 - 10.15
Lecture
Idun Reiten
Lecture
Vanessa Miemietz
Lecture
Idun Reiten
10.15 - 10.45
Coffee

Coffee

Coffee

10.45 - 11.15
Talk
Magdalena Boos
Talk
Tania Silva
Talk
Lara Bossinger
11.30 - 12.00
Talk
Rosanna Laking
Talk
Asilata Baptat
Talk
Sira Gratz
12.00 - 13.30
Lunch

Lunch

Snacks

13.30 - 14.30
Lecture
Vanessa Miemietz
Lecture
Idun Reiten
14.30 - 17.00
Poster
Coffee
Poster
Coffee
17.00 - 17.30
Talk
Hannah Keese
Talk
Viviana Gubitosi
17.45 - 18.15
Talk
Emily Norton
19.00 -
Dinner

---
Organisers
---

Last update: 19.07.2016