General Information
Address
Endenicher Allee 60
D-53115 Bonn

Previous address:
Beringstraße 1
D-53115 Bonn

Executive Director
Prof. Dr. Daniel Huybrechts
Main Office
Frau Müller-Herchen
Endenicher Allee 60, Room 110
Office hours: 10:00-12:30
Tel: +49 (228) 73-2204
Fax: +49 (228) 73-7916
How to Find Us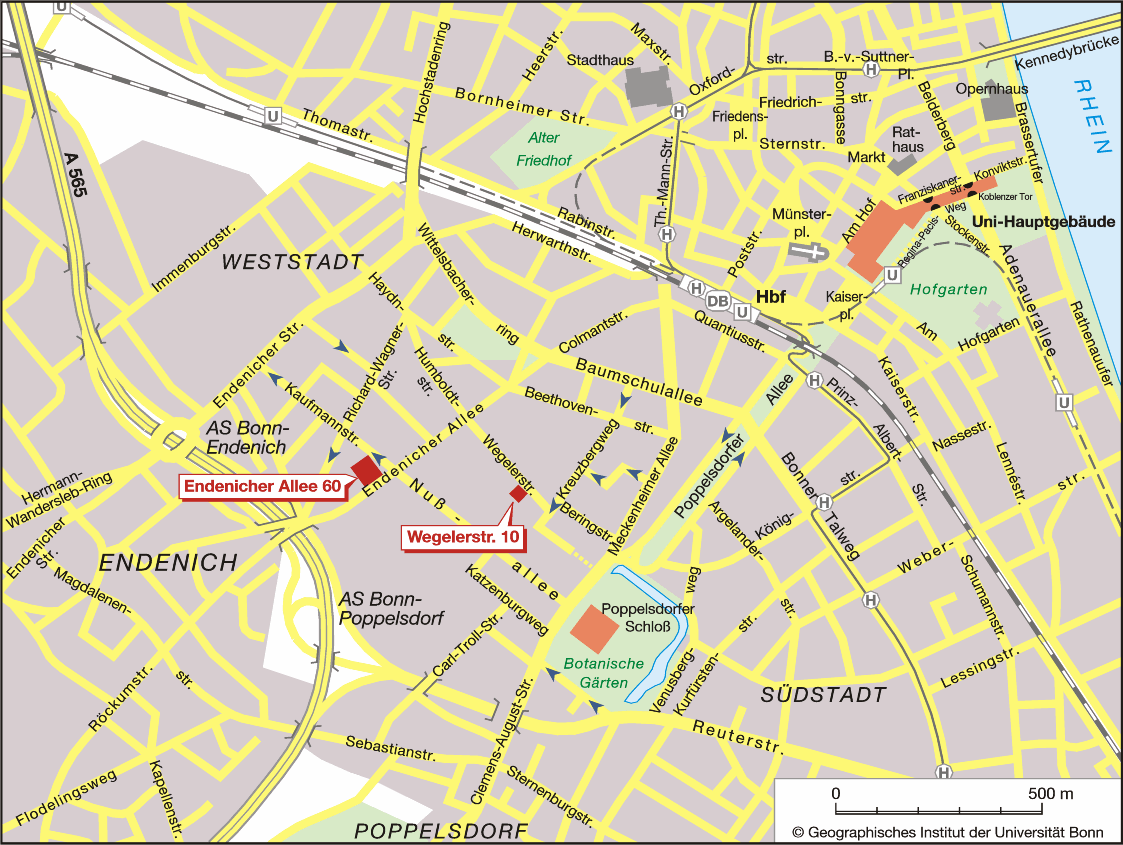 Nearest airport: Cologne Bonn Airport
There is a bus (SB60) going directly from the airport to Bonn Hbf (train station) every 30 min.
Nearest train station: Bonn Hauptbahnhof (Hbf.)
Bus stop: The bus stop Kaufmannstraße is located right in front of the Mathematik-Zentrum, Endenicher Allee 60. Lines 604, 605, 606, 607 (from and to the main train station Bonn Hbf.), line 631 and night bus line N2 (after midnight) stop here.

Imprint
Herausgegeben im Auftrag des Rektors der
Rheinischen Friedrich-Wilhelms-Universität Bonn
Regina-Pacis-Weg 3
53113 Bonn
Tel: +49 228 73-0
Email: kommunikation@uni-bonn.de

Die Rheinische Friedrich-Wilhelms-Universität Bonn ist eine Körperschaft des öffentlichen Rechts. Sie wird durch den Rektor, Univ.-Prof. Dr. Dr. h.c. Michael Hoch, vertreten.
Umsatzsteuer-Identifikationsnummer gemäß §27a Umsatzsteuergesetz: DE 122 119 125
Die Webseiten der Zentralen Hochschulverwaltung, Fakultäten, Zentralen Einrichtungen, Gruppenvertretungen, Institute, Lehrstühle sowie Lehr- und Forschungsgebiete werden von den von diesen beauftragten Webkoordinatorinnen und Webkoordinatoren beziehungsweise deren Webmastern eigenständig betreut.
Inhaltliche Verantwortlichkeit für die Webseite des Mathematischen Instituts (MI):
Geschäftsführender Direktor des MI
Endenicher Allee 60
D-53115 Bonn
Tel: +49 228 73-2204
Fax: +49 228 73-7916
Email: geschzi@math.uni-bonn.de

ViSdP: The Executive Director Prof. Dr. Daniel Huybrechts
These pages were generated by Support.
Data Privacy Statement
Our Data Privacy Statement is to be found here.