Markus Hausmann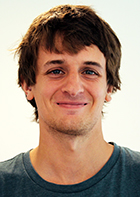 Mathematisches Institut
Universität Bonn
Endenicher Allee 60
53115 Bonn
| | |
| --- | --- |
| Email | hausmann "at" math.uni-bonn.de |
| Office | Endenicher Allee 60, Room 4.006 |
About me
I am a PostDoc (Akademischer Rat auf Zeit) at the University of Bonn and a member of the Topology group. Between 2016-2019 I was a PostDoc at the University of Copenhagen, and before that I obtained my PhD at the University of Bonn under the supervision of Stefan Schwede.
Research interests
I work in algebraic topology, in particular (equivariant) stable homotopy theory, chromatic homotopy theory, tensor-triangular geometry and geometric group theory.
[Google scholar profile]
[MathSciNet profile]
[arXiv profile]
Teaching winter term 2020:
Assistent for Topology I (V3D1/F4D1) [course page]
Hauptseminar Differentialtopologie (S2D2) [Topology from the differentiable viewpoint]
Teaching summer term 2021:
Assistent for Topology II
Hauptseminar Homotopietheorie (S4D2) [Group cohomology] Tuesdays, 14:15-15:45.
---
Preprints
Global group laws and equivariant bordism rings
arXiv preprint
Publications
Proper equivariant stable homotopy theory (with Dieter Degrijse, Wolfgang Lück, Irakli Patchkoria and Stefan Schwede)

Memoirs of the American Mathematical Society (to appear)
On the Balmer spectrum for compact Lie groups (with Tobias Barthel and John Greenlees)

Compositio Mathematica, Vol. 156, Issue 1 (2020), p. 39-76. [journal link]
Commuting matrices and Atiyah's Real K-theory (with Simon Gritschacher)

Journal of Topology, Vol. 12, Issue 3 (2019), p. 832-853. [journal link]
The Balmer spectrum of the equivariant homotopy category of a finite abelian group. (with Tobias Barthel, Niko Naumann, Thomas Nikolaus, Justin Noel and Nat Stapleton)

Inventiones Mathematicae, Vol. 216, Issue 1 (2019), p. 215-240. [journal link]
Symmetric products and subgroup lattices
Geometry & Topology 22-3 (2018), p. 1547-1591. [journal link]
Filtrations of global equivariant K-theory (with Dominik Ostermayr)

Mathematische Zeitschrift , Vol. 295 (2020), p. 161-210. [journal link]
Symmetric spectra model global equivariant homotopy theory
Algebraic & Geometric Topology 19-3 (2019), p. 1413-1452. [journal link]
G-symmetric spectra, semistability and the multiplicative norm
Journal of Pure and Applied Algebra, Vol. 221, No. 10, 10.2017, p. 2582-2632. [journal link]
---
Coauthors
Tobias Barthel, Dieter Degrijse, John Greenlees, Simon Gritschacher, Wolfgang Lück, Niko Naumann, Thomas Nikolaus, Justin Noel, Dominik Ostermayr, Irakli Patchkoria, Stefan Schwede, Nat Stapleton